Automate more. Work less.
Key Maestro gives you tremendous power over your applications. By assigning each of your most-used applications a keyboard shortcut, you can instantly bring the one you want forward and hide all the others. Tasks that you do over and over again can be automated. You can even send commands to applications running in the background.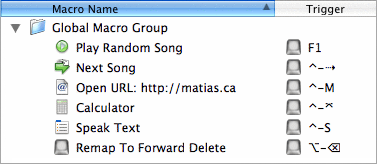 Create keyboard shortcuts for any menu item.
Have a menu selection you're accessing constantly? A keyboard shortcut would be much faster, but maybe there isn't one, or maybe you just can't remember it. With Key Maestro you can create your own! Any menu item in any application can be linked to a keyboard shortcut of your choice. You can even override existing shortcuts.
Tune your iTunes.
It's nice having iTunes playing while you work, but it's a pain to have to go into it, just to pause the music or skip past a song you don't like. Good news: now you don't have to! Key Maestro will let you control iTunes from within any other application.
Surf Safari.
Are there websites you use a lot? Dictionary.com? Google.com? Pick a keyboard shortcut you can remember, and Key Maestro will link you directly to it.
Boilerplate and Multiple Clipboards.
Are there bits of text you type repeatedly throughout the day? Email addresses? Signatures? Answers to common questions? Key Maestro has multiple clipboards. Copy each of them once, and you can paste them from then on. No more re-typing!
Program your F-keys.
Those function keys across the top of your keyboard can be put to better use. Key Maestro lets you assign any command at your disposal to an F-key, even multiple commands.

Even better on an OS X Keyboard.
Key Maestro works even better with the OS X Keyboard. Its strategically-placed extra Control key lets you trigger commands with lightning speed, and without moving your hands out of home row. It's much faster than a regular keyboard.