Stylish laptop protection.
Stylish and rugged, Laptop Armor hard cases are designed to give your notebook computer real protection from the catastrophic impact of a fall, and look great doing it.

The Black Aluminum Laptop Armor features a rigid aluminum outer shell in a beautiful black metallic finish, sure to turn heads wherever you go, and offering a degree of protection and style comparable to cases that sell for hundreds of dollars more.
Drop tested.
We don't recommend that you do this with your laptop, but to test how well Laptop Armor performed, we dropped one of ours 10 feet (3 meters) off a 2nd floor ledge onto concrete. Both laptop and Armor survived!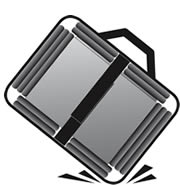 Hard exterior, soft interior.
The key to Laptop Armor's protective capability is the combination of a hard outer shell and a padded foam interior. The patented Corner Protection System surrounds the edges of your laptop with multiple layers of foam, insulating it from the outer shell of the case. In the event of a fall, the hard outer shell absorbs most of the impact, while foam spacers cushion your laptop and keep its fragile corners away from the collision.
"...it stands up to my "road dog" life incredibly well... After several months of my tireless abuse, it still looks good, works well and so [does] my PowerBook."

DANIEL EAST, MacsimumPerspective.com
Custom fit to your laptop.
The 14"-17" Slim Laptop Armor's patented Foam Spacer design is adjustable to custom fit virtually any slim laptop or notebook computer with a 14"-17" screen (measured diagonally). Velcro-backed Foam Spacers are used to re-size the inside of the case, matching it to the size and shape of your laptop and ensuring a snug fit, while the velcro-backed central strap holds your laptop securely in place.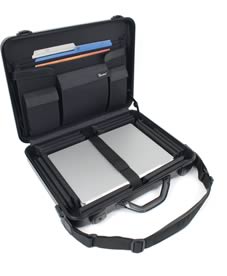 Pocket and file storage.
Laptop Armor cases have a magazine/file folder organizer plus 3 storage pockets: one large pocket for your power adapter and cables, a smaller pocket to stow a mouse or iPod/MP3 player, and a tall one to hold your sunglasses and pens or pencils.
Shoulder strap.
All models include a detachable, padded shoulder strap.