Matias releases the Secure Pro wireless mechanical keyboard with 128‑bit AES encryption
LAS VEGAS, January 8, 2014 — With mounting public concern over privacy and information security, Matias today announced its Secure Pro Keyboard — a wireless mechanical keyboard with 128‑bit AES encryption.
"We built the strongest crypto available into this keyboard," said Edgar Matias, CEO of Matias. "Even with a supercomputer, it's been estimated to take a billion-billion years to crack a 128‑bit AES key, using brute force methods. Whether you're typing a password or entering bank information, encryption is essential for anyone using a wireless keyboard. The Secure Pro takes care of all that for you, automatically."
The Secure Pro Keyboard uses Matias' ALPS-inspired Quiet Click mechanical keyswitches, delivering the speed and comfort of a traditional mechanical keyboard, without the extra noise. Matias switches are also more tactile, making them better for typing than the Cherry mechanical keyswitches popular on high-end gaming keyboards.
"The Secure Pro is a perfect road warrior's keyboard. It's fast and feels great to type on — much better than the keyboard on your laptop. The smaller form factor, quiet switches, and encrypted wireless connection make it ideal for using safely and comfortably in public spaces — cafés, hotel rooms, you name it," said Matias.
"To top it off, we put a ridiculously large 1,600 mAh rechargeable battery in it — big enough to last you 6 to 12 months on a single charge, so you'll rarely ever have to worry about charging the battery," added Matias.
The Secure Pro works with any computer equipped with a USB port. It will be on display at CES this week, in LVCC Booth #6419 (iLounge Pavilion).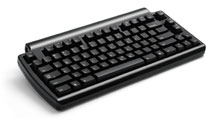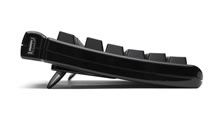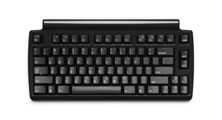 Price & Availability
The Secure Pro retails for $169.95 (US). Pre-order now, for delivery in March, and get FREE shipping from matias.ca. It will also be available soon from authorized Matias resellers.

In Europe, the Secure Pro will be available from The Keyboard Company, in UK, German, and Nordic layouts.

About Matias
Co-founded by an inventor and an accountant, Matias led the way in re-establishing the mechanical keyboard market, starting in 2003 with the release of it's award winning Tactile Pro Keyboard, and more recently with the development of its own ALPS-inspired Matias Mechanical Keyswitches.

SUMMARY
Compact wireless mechanical keyboard with super secure 128‑bit AES encryption
Amazing feel and speed of Matias' ALPS-inspired Quiet Click mechanical keyswitches
6 to 12 month battery life (rechargeable)
MSRP: $ 169.95
Size & Weight:
13.26 x 6.5 x 1.38 inches
(33.7 x 16.5 x 3.5 cm)
2.15 lbs (974 g)
Web:

PRESS CONTACTS
US / Canada / Asia:
Edgar Matias
pr@matias.ca
(416) 821-0998
Twitter: @matiasblog
Europe:
John Sage
The Keyboard Company
john@keyboardco.com
+44 (0) 1453 884938
Twitter: @keyboardco


Secure Pro, Quiet Click, Matias, and the Matias logo are trademarks of Matias Corporation. The owners of other trademarks are respectfully acknowledged.