Charge any USB device without a computer.
The Slim USB Power Adapter by Matias is the only wall outlet AC power supply you need to charge your USB iPod, Blackberry, or other USB device.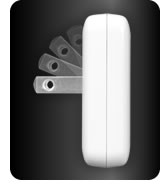 The Slim USB Power Adapter's super-thin, easy-to-pack design is ideal for travel. It works anywhere in the world, automatically switching to accept 100 - 240 volt electrical service, and will easily fit most international plug adapters. Simply plug into a wall outlet, then plug in your USB device.
A dual-color LED indicator glows red when the Adapter is charging your device, and green when the charge is complete.
Specifications:
Input: 100-240V AC 50/60 Hz
Output: 5V DC 500 mA
Dimensions: 2.17" x 1.97" x 0.71" (55mm x 50mm x 18mm)
Weight: 1.41 oz (40g)
Model #: UP101

Cables not included.