---
Matias Tactile Pro Keyboard: It's Got the Touch!
Ric Getter (Boston, MA) in MacDirectory magazine
If you're a hunt-and-peck typist who's content with any keyboard as long as the keys are clearly labeled, you can probably move along to the next article. But if you're someone who takes to a keyboard like Mario Andretti takes to a steering wheel, I urge you to keep reading.
Over the years, Apple has been making better and better computers, displays and software. Unfortunately, their efforts with keyboards have gone in pretty much the opposite direction. The Mac SE-era Extended Keyboard was probably the best Apple ever made. And, it's the one that this writer has been using on his G4 (thanks to the Griffin iMate ADB adapter). It is difficult to describe why it's so conducive to fast, accurate typing except that up is definitely up, down is definitely down and the travel between the two is very even.
As pretty as it is, the current Apple Pro keyboard still feels about as spongy as the one that came with the original iMac. I tried and practiced with them all, but my typing speed was always about a third faster and error rate infinitely lower with my old Apple Extended. Unfortunately, this was leading to a growing number of drawbacks. The iMate ADB/USB adapter doesn't support all of the pre-boot startup keystrokes, it will cause some G4s to open the drive bay during startup, and ours seems to have a growing number of glitches with recent updates to OS X.
Sound and Power
Thanks to Matias, Corp., keyboard freaks can now experience the best of both worlds. The Tactile Pro keyboard has, if you can believe it, an even better feel than the original ADB keyboards. It is just as pretty and has all the features of the Apple Pro. In fact, from a distance, with the exception of the power button (yes, it's back!), the keyboard is virtually indistinguishable from the Apple Pro. It sports two side-looking USB ports and a heavy-duty USB cable, easily long enough to reach a CPU sitting under your desk. The construction of the keyboard housing is extremely solid and compares favorably with the Apple Pro.
Above the numeric keypad, you'll find four full-size keys for sound up, sound down, mute and disk eject, just like the Apple Pro. However, to activate these functions, you'll need to install an included driver file for OS X. A pair of spring-loaded, fold out legs on the bottom of the keyboard let it either lay flat or at an angle virtually identical to the original Extended Keyboard.
With the Tactile Pro, all of Apple's startup keyboard combinations work as they're supposed to. As you would expect, the pressing the Power key brings up the shutdown/restart dialog. The Command, Control, Power key sequence does force a shut down, but the spinning spokes appear for a while before the computer powers off, leading one to believe that it is bringing things to a halt in a more orderly way than using the CPU reset button.
The CD simply contained the installer, and un-installer, but no documentation. Of course, there's not much you need to say about a keyboard, but for folks using the Tactile Pro as a replacement for older keyboards may need some information on how the new keys work. (In all fairness, MacDirectory received one of the first keyboards shipped to reviewers, so there may be a more sophisticated retail package on the way.)
Simply Feels Good
Unfortunately, there are very few objective standards that one can use to evaluate a keyboard. However, it will be sure to satisfy any fast and finicky typist who's been unhappy with Apple's recent offerings. The performance and feel of the Tactile Pro ranks with the best, including the original Apple Extended and my personal favorite, a 1980's-era Adds terminal with a Cherry keyboard mechanism. Between the solid response of the keys and the fact that we're no longer going through an ADB adapter, I found my typing speed up and my error rate noticeably lower.
The quality, comfort, and speed do come at a price. At $99 (plus shipping), it is targeted at a market that really takes their keyboarding very seriously. Matias backs the keyboard with a 5-year warranty, demonstrating their confidence in the peripheral's quality. But if you are one of us who have never gotten used to Apple's current crop of keyboards, it's a must-have device. Besides, as Mac users, we're used to buying the best, not necessarily the cheapest.
It may be a while before the Tactile Pro finds its way into bricks-and-mortar retail outlets. For now, it's available through the Matias web site along with some of the other goodies the company produces, including a classy brushed-aluminum armored shell for your iPod and its unique, single-handed keyboard. Reading a review is one thing, but hammer away on the Tactile Pro for a few minutes and you'll realize that it's a keyboarder's dream come true. It's got the touch!
---
Clacky-Clacky-Clacky Is Part Of The User Interface.
Andy Ihnatko on the Mac Observer
Matias Corp had a new USB keyboard. Yes, a new keyboard, no you can't roll it up and stick it in your back pocket, nor does it have an integrated cupholder or a big orange button marked "Porn."
Boring? No. What the TactilePro keyboard does have are incredibly studly keyswitches. It's hard to appreciate that there was a day when all keyboards were like this. In fact, in the brochure it's claimed that the TactilePro uses the same sort of keyswitches that Apple used in its old ADB Extended Keyboard. Anyone who used one of those remembers it fondly. It felt great under your fingers. There was a soft little springy bounce and a positive clack when the key struck down. The sound isn't a productivity feature but it makes you sound like you're really, really working.
Testing it in the booth, the luxurious feel of the TactilePro was almost distracting. I do nearly all of my writing on Lilith, my TiBook, and I'm used to the stiff, short throw of a notebook keyboard. Even the standard Apple USB keyboards are slightly chintzy.
I made a few typos in my first couple of paragraphs there in the booth, but my fingers quickly adjusted to the difference and we were off and running.
It's affordable (I've just checked the brochure and my notes. I seem to remember $99 but I can't find it written down anywhere) and it sports the same style and features as the Apple USB. So outside of the improvements, you probably won't notice the difference.
---
Applelinks Review
Kirk Hiner on Applelinks
Matias is right, by the way. The Apple Extended Keyboard is "the best keyboard Apple ever made." It was comfortable to use, the keys were responsive, and it was tremendously sturdy. I got one with my 9600 back in '97 (or was it the 6100 in '94?) and it still serves me well (as does the 9600, actually).
Matias also claims their Tactile Pro Keyboard is nothing less than the Apple Extended resurrected, as it's built from the same keyswitch technology that Apple used on the Extended. Is their claim accurate? Well, if you don't believe in life after death, this may just make a religious person out of you.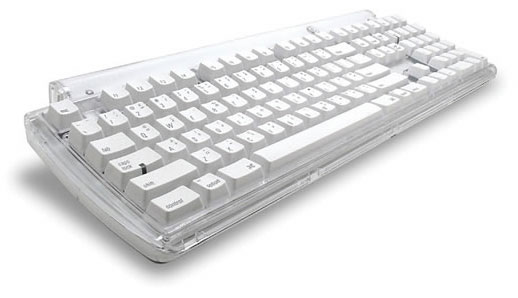 The original Tactile Pro was released by Matias late last summer, and I reviewed it in September. I liked it quite a bit for the exact same reasons I like this new edition, which I'll detail below. But I like the new version just that much more, thanks mainly to a feature that should've been implemented fifteen years ago. Before I get to that, though, let's talk about some things I don't fully understand.
As Matias explains, "the Tactile Pro Keyboard uses high-quality Alps mechanical key switches with enhanced tactile feedback for greater comfort and faster typing speeds." Like many of you out there, I have no idea what "high-quality Alps mechanical key switches" are or why they're good, so I'll describe it this way; they click.
Although the current Apple Keyboard and most of the third party keyboards I've used have all been comfortable, they've also been soft. There's little action to them. To me, it's like the difference between playing a piano and synthesizer. The piano keys have more action to them. More bounce. It's easier to tell what you're hitting when, which therefore makes your playing more accurate. The same thing goes for the Tactile Pro Keyboard. The enhanced tactile feedback provides a better feel for what you're typing, therefore making it easier to type.
That sounds odd, I know, but here's how it became readily apparent to me. On my old Apple Keyboard, I frequently found myself missing capital letters. My rhythm on hitting the shift key was off. With the Tactile Pro, that happened much less often. Another problem that seemed to correct itself was mistiming the space bar. Perhaps the typo I make the most is hitting the space bar too late between words so that, for example, the phrase "majestic frigate" would become "majesticf rigate." The Tactile Pro helped me correct that somewhat.
Now, is there a scientific reason for any of this? Can I back any of my results up with numbers and bar charts? I don't think so. But, whether I'm working on an Applelinks review, my novels or my web design work, I've been hitting that delete key a lot less than I was before.
I have been dying in games more often, though. Not sure what it is, but I prefer the smoother touch of the Apple Keyboard when running through abandoned spaceships or launching battles in medieval England. The softer edges of the keys are also more comfortable for quickly sliding your fingers across the keys, but hey, that's what game pads are for, right?
For many Mac users, though, there's more to the keyboard than how it feels. The aesthetically minded will be pleased to note that the Tactile Pro fits in quite well with Apple's current sanitized designs. They keys are white and the casing is white and transparent, making sure all those dog hairs and Combos brand cheese filled snacks crumbs will be visible for years to come. The layout also closely mimics the Apple Pro Keyboard, with full-sized keys across the board, a complete row of 15 function keys, four arrow keys and a number pad. Number lock and caps lock are both indicated by a thin green light when active.

But here's the kicker I mentioned above. The Tactile Pro's key caps are clearly labeled with the international characters, accents, punctuation, and currency symbols that are available by holding down the Option or Shift+Option keys. No more opening special apps or referring to charts to remember how to type a bullet, the copyright symbol or the Apple icon. They're all labelled clearly but discreetly right on the keys. This will not only save you time, but the time of others in your office unfortunate enough to not have the Tactile Pro. "Hey, Kirk, how do you type a...?" is now a more popular question in my office than, "Did you watch The Apprentice last night?"
Thank God.
The Tactile Pro sports two USB ports, one on each side of the keyboard. Two latches on the bottom can flip open to raise the back end about 3/4 inch off the desk, and rubber pads towards the front of the keyboard and on the aforementioned latches help to keep the keyboard from slipping. They do a decent job, although I still found I could perhaps too easily slide the keyboard around, especially while playing games.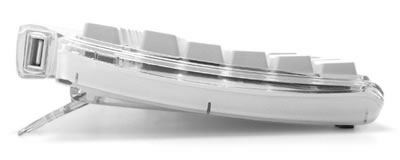 Now, with any third-party Mac keyboard, there are two items that need to be addressed: power switch and CD eject. The Tactile Pro does have a power switch just above the F12 and F13 keys, but I haven't been able to get it to work. Couldn't on the last model, and can't on this one. I've tried it on three computers with the Matias driver installed, and had no luck each time. The CD eject key has given me no problems, but be careful there. If you have a newer Apple computer with no CD eject button on the CPU, make sure you install the driver off the provided CD before unplugging your old keyboard. Otherwise, you won't be able to insert the CD in order to install the driver. If you have an internet connection, you can download the driver from the Matias website. Otherwise, you're caught in a classic Catch-22.
And here's something interesting. Some of our readers using similar keyboards from other manufacturers have complained that, when holding down the left Command and Option keys, certain other keys wouldn't register (for instance, W, R and P wouldn't register when holding down left Option). They would work fine, however, when you hold down the right Command and Option keys. Matias explained to us that keyboards have different electronics which can cause this problem. They're called "shadow keys." Every keyboard has them, and some keyboards have them in very inconvenient spots, unfortunately. If the Tactile Pro has shadow keys, they have yet to interfere with my work.
Installing the driver will also give you access to the volume control keys which, on all three computers with which this keyboard was tested, worked just fine. Speaking of volume, though, let's talk about the noise factor. After using the original Tactile Pro Keyboard for just about fifteen minutes, one of my coworkers was stopping just short of demanding I take it home to evaluate it as the noise produced by the keys was distracting her from her work. Now, I didn't mind so much, because it gave her something other than the office temperature to complain about, but I could see her point. I dug out my old Apple Extended and used them side by side for a while, and the Tactile Pro was indeed quite a bit louder. This model seems a bit more quiet than the previous model, but it's still quite "clicky." I don't know...maybe I'm just getting used to it.
Matias claims that the Tactile Pro is just as sturdy as the old Apple Extended, and they back up the claim with a 5 year "few-questions-asked" warranty. There's also a 30 day money-back guarantee, you know, in case your coworkers don't have iPods to drown out all that clicking.
In the end, it's the both feel of this keyboard and the convenience of the special character keycaps that are going to sell the most units. Provided you have better luck with the power button, you lose nothing by switching to Matias' Tactile Pro Keyboard...save for the $100. What you gain, though is potentially a higher degree of accuracy and improved speed, and that will prove tremendously important.
Applelinks Rating
---
This is the MOST AMAZING keyboard I have ever used.
Eliot Danner
This is the MOST AMAZING keyboard I have ever used.
I cant wait to get my hands on one. I tried one at MacWorld...these are what keyboards used to be...what they should be. And if you think I am weird, there was a line of at least 20 people to try this thing and everyone walked away shaking their heads and saying things like
"amazing"
"only $100, what a deal"
"I need one of those"
---
The Majestic Alps and the King of Keyboards
Adam C. Engst (Ithaca, NY) in TidBITS
Back in the days when ADB ruled the land, Apple made one of the best keyboards in the known universe - the Apple Extended Keyboard. It was a large, solid keyboard with a great tactile feel provided by mechanical switches under each key. But good keyboards cost money, and over time Apple traded the desire to provide the best keyboard with the Mac for the desire to spend less money per Mac by skimping on the keyboard. Thanks to moving away from Alps mechanical keyswitches, Apple's keyboards became mushy, and those of us who appreciate a good keyboard muttered darkly and clung to our old keyboards.
But if things were looking bad then, they were to get worse (and I promise not to dwell on the abomination that is the location of the Fn key on PowerBook and iBook keyboards). When Apple introduced the iMac, it included a cute little keyboard with a non-standard layout and a truly awful tactile feel, accompanied by a round mouse that was even worse. Almost everyone hated this keyboard (I'm being kind here, since in fact, I don't know anyone who liked it, but it's a big world out there and Apple sold a lot of iMacs, so I'm sure someone must have liked it). Worse, since the iMac dropped ADB in favor of USB, it became difficult to use an old ADB keyboard, since USB-to-ADB adapters tended to be a bit flaky with keyboards, which need to work in unusual situations such as when the Mac is powered down, sleeping, or crashed.
Having fallen to previously unexplored depths, Apple pulled itself out of the fetid mire with the Apple Pro Keyboard, a full-size keyboard with a standard layout and a decent tactile feel. The Apple Pro Keyboard was so much better than the original iMac keyboard that everyone breathed a sigh of relief and with a few exceptions, forgot that even the Apple Pro Keyboard couldn't hold a candle to the Apple Extended Keyboard.
On a Mission -- I, and the other members of the TidBITS staff, do a lot of typing. Our keyboards are in constant use all day long, as we write and edit articles, create and reply to email, and who knows what else. In fact, the main serious use for keyboards that we don't have is gaming, where fast and accurate response are essential.
Over the last few years, we've tried a number of keyboards. Note that we don't want anything fancy, like split keyboards, or keyboards with lots of extra specialty keys. All we want is a real Macintosh keyboard (with Command and Option keys, rather than Windows and Alt keys) that's basically the same as the Apple Extended Keyboard.
None of the keyboards we've tried, including some from Macally, Kensington, and MicroConnectors, have garnered entirely positive comments, and more problematic, a number of them have failed in some important way (who needs an N key anyway!).
Enter the Tactile Pro -- We're inundated by press releases every day, and it's uncommon for one to generate comment on our internal staff mailing list. However, when we received the initial press release for Matias's Tactile Pro keyboard, which led with "Matias recreates 'the best keyboard Apple ever made'" and went on to promise that the Tactile Pro Keyboard used the same mechanical switch technology as the original Apple Extended Keyboard, there was very nearly an online battle over who would get to try a review unit first. Ever the voice of calm and reason, I settled the question by announcing that I would take first crack at it. To quote Tom Petty, it's good to be king.
<http://tactilepro.com/>
On the face of it, the Tactile Pro Keyboard looks very much like the Apple Pro Keyboard (at least the one that came with my Power Mac G4), with a clear plastic shell backed by white plastic and solid white keys. It's slightly less wide (from Caps Lock to the edge of the numeric keypad) than the Apple Pro Keyboard, but deeper (from the spacebar to the top of the keyboard above the function keys). Like the Apple Pro Keyboard, it sports a hard-wired cable and a pair of USB ports on either side of the top. A pair of feet flip out from the bottom if you prefer your keyboard angled up (so your fingers are higher than your wrists, a position I usually recommend against because of the unnatural hand position it enforces).
The keyboard layout is standard (no Fn or other boutique keys anywhere in sight!) and for the most part very similar to the Apple Pro Keyboard. There are a few differences, though. The top row of keys (Escape, the function keys, and the volume and Eject keys) are somewhat more separated from the rest of the keyboard than on the Apple Pro Keyboard, which is fine, since you don't want to press them accidentally. The Tactile Pro Keyboard also has a power key above the function keys, a welcome addition if you can't easily reach one of the power keys on your Mac or if you don't have Apple monitors (which can power the machine on). Through no fault of Matias's, the power key can only power on older Macs with the necessary hardware support; Apple's current Macs no longer support power on signals via USB (but the power key still brings up the Restart/Sleep/Shut Down dialog when the Mac is turned on).
At a quick glance, the keycaps on the Tactile Pro Keyboard look slightly unusual. When you look more closely, you realize that Matias has done something that would seem obvious except for the fact that no one has done it before: they printed the Option- and Shift-Option-characters on every keycap. It's a brilliant move; no longer do you need a software utility to look up the degree character when you can just glance at the keyboard and see that it's Shift-Option-8. And before this I could never keep the keystrokes straight for single and double curly quotes (hold Option- or Shift-Option and press the bracket keys).
<http://tactilepro.com/viewer/tp_mainpic.html>
On the downside, the Tactile Pro Keyboard's Option keys are slightly smaller than on the Apple Pro Keyboard, making them harder to hit accurately. The Apple Pro Keyboard's Caps Lock key has an unusual keycap that separates it slightly from the A key; the Tactile Pro Keyboard lacks that special keycap, so I find myself accidentally turning Caps Lock on more frequently than before. Speaking of special keys, the volume and Eject keys require a special driver that Mac OS X 10.2 Jaguar users must install; a CD-ROM contains the necessary installer.
Where the Tactile Pro Keyboard really shines, though, is in its feel. The keys are decidedly "clickier" and more mechanical, and they have a slightly longer key travel when you push them. The end result is a much less mushy feel than on the Apple Pro Keyboard, but accompanied by much louder typing noises. When I'm typing fast, the Tactile Pro Keyboard almost clatters, and I can say with assurance that I don't mind one bit. The new feel took a little getting used to, but within a day, it felt quite wonderful.
It's entirely possible that some people may not appreciate the extra noise; there's no question that the Tactile Pro Keyboard is much louder than the Apple Pro Keyboard and other keyboards that use rubber membrane switches. I could imagine situations where a quiet keyboard would be important, but for most people, the important aspect of a keyboard is how it feels when you type. I had to switch back to the Apple Pro Keyboard briefly because the first Tactile Pro Keyboard Matias sent me developed a spotty A key after a few weeks of use; Edgar Matias told me that although the Alps keyswitches generally last for many years, if one is going to fail, it will fail almost immediately (which is why Matias offers a 5-year "few questions asked" warranty).
The return to the Apple Pro Keyboard was revealing. My typing accuracy dropped immediately, and my hands ached after a long day. Although I probably would have re-acclimated to it after another week or two, switching back to the replacement Tactile Pro Keyboard when it arrived was a huge relief.
I can't speak for anyone else, but if you consider yourself a keyboard aficionado, or if you've been bothered by the slide in quality for Apple's keyboards, you owe it to yourself to give the Tactile Pro Keyboard a try. It costs $100 plus $20 shipping if you buy direct from Matias; it probably makes more sense to buy from a reseller like TidBITS sponsor Small Dog Electronics, where the price is $80 before shipping.
Protecting the Alps -- There's an interesting little side story that played itself out while I was reviewing the keyboard and communicating back and forth with Edgar Matias. The Tactile Pro Keyboard had been out for only a short while when Alps, the makers of the mechanical keyswitches, announced that they were going to stop making these particular keyswitches altogether.
Most vendors have moved to a lower-cost clone of the keyswitch, but when Edgar tried a sample keyboard they sent him, he thought it felt awful, with a touch so light it was tricky to avoid typing a character if he so much as touched a keycap. Although a light touch might seem like a good thing, it's common to rest your fingers gently on the keycaps when you're not typing, and if the switch doesn't provide a certain amount of resistance, you end up entering characters accidentally. Most users respond to a too-light keyboard by holding their fingers just above the keyboard, but that subconscious action can make you even more tired by the end of the day. Despite this light touch, the sample keyboard was even louder than the Tactile Pro Keyboard. Needless to say, he was shocked that this could happen, both because he feared for the Tactile Pro Keyboard's future and because he didn't want see the famed Alps keyswitch disappear for good. Since Alps would have mothballed the tooling used to build this particular keyswitch, it might never have been produced again, particularly if the tooling deteriorated in the warehouse from lack of use and maintenance.
Luckily, Edgar was able to convince the Alps factory in Taiwan to keep the tooling active for him by committing to buy a million keyswitches. There are 110 keys (and thus presumably keyswitches) on a Tactile Pro Keyboard, so Matias needs to sell just over 9,000 keyboards to use up the promised million keyswitches. That's confidence, but after trying the Tactile Pro Keyboard, I think it's justified. It costs only a bit more than an Apple Pro Keyboard; it includes all the Option- and Shift-Option characters on the keycaps; and at least to my mind, it feels so much better that I type faster, more accurately, and more comfortably. Everyone's hands are different, but if you live and die by your keyboard as I do, Matias's Tactile Pro Keyboard is absolutely worth a try.
---
At last, a keyboard to let me fall in love again
Bob Levitus (Dr. Mac) in the Houston Chronicle
My favorite keyboard of all time had to be the Apple Extended ADB Keyboard, which we all called Battleship Saratoga because it was roughly the size of an aircraft carrier.
Yes, it was ugly and took up too much desk space. But it had that perfect combination of key bounce and resistance that I -- and, apparently, many others -- found nearly perfect.
Alas, that keyboard has been discontinued for years. So after trying dozens of replacements, I found my second-favorite keyboard.
I'm speaking of the Microsoft Natural Keyboard Pro ergonomic USB keyboard, which is almost as big as a Saratoga, has more keys and buttons than a Saratoga and was almost as good as a Saratoga. But, of course, that model is now discontinued.
I tried other Microsoft ergonomic keyboards that were quite nice and had the same excellent keyboard driver software and additional keys and buttons I love, but none of them felt quite right. I scoured the Internet and bought perhaps the last two new-in-box Natural Keyboard Pros on Earth, which, unfortunately, were brown-box stock, which means they have giant Dell logos on them.
Still, I figured three of 'em would last me at least a few years, and by that time I hoped I would find a keyboard more like my beloved Saratoga.
Recently, Matias Corp., which also makes the iPod Armor aluminum carrying case, introduced Tactile Pro, a keyboard built using the same Alps keyswitch technology Apple used for the Saratoga.
I immediately requested a review unit. When it arrived, I used it for a few days, and it did indeed feel fantastic and very much like the Saratoga. But my fingers were used to the split ergonomic keyboard, so as good as the Tactile Pro was, I felt it was making me type slower.
Now, the faster I type, the more money I earn, so I reluctantly went back to the Microsoft keyboard and had almost forgotten the incident when I read Adam Engst's rave review of Tactile Pro in TidBITS (db.tidbits.com/getbits.acgitbart= 07607), so I gave it another try.
It's roughly the size and shape of an Apple Pro Keyboard with a similar key layout. So while it took me several days to get used to its layout, you should be comfortable with it after just a few minutes.
While the key switches are the main attraction, I didn't even notice another great feature the first time around: Every key has its Option and Shift-Option characters printed right on the key cap, which means you'll never forget where to find the © or other characters. Sweet!
The only drawback is that mechanical keyswitches are noticeably noisier than the cheaper, but quieter, membrane keyswitches found in most keyboards. It's OK with me. I like the clacking, except when I'm on the phone because I can't pretend to be paying attention while I'm actually working anymore. But that's a small price to pay and worth every dime.
After less than a week I'm typing faster and more accurately, with less hand fatigue. In a word, these keys have the perfect amount of both bounce and resistance. Tactile Pro is the best Mac keyboard I've used in years, and with its five-year warranty and solid, built-to-last construction, I give it my highest recommendation.
Bob Dr. Mac LeVitus is a leading authority on Mac OS and the author of 45 computer books, including Mac OS X for Dummies, Panther Edition and Dr. Mac: The OS X Files, Panther Edition. E-mail comments to doctorX@boblevitus.com.
---
This keyboard has actually made me better!
Michael John Peters - RMUG on SmallDog.com
I bought the Matias Tactile Pro Keyboard, and I am very happy with my purchase. I am not a very good typist. In fact I am rather poor. This keyboard has actually made me better! I am not faster but when I hit a key it is hit and only one letter per touch appears so I am not constantly going back and correcting myself.
The reason for the firm feel of the keys is the mechanical key switches. Mac users who crave the feel of Apple's quality keyboards of old will love this keyboard. The Tactile Pro Keyboard uses high-quality Alps mechanical keyswitches, with enhanced tactile feedback for greater comfort and faster typing speeds.
I also like the special characters and symbols on each key. There is no need to launch another application to find that special symbol. For quick and easy reference, the Tactile Pro's key caps are clearly labeled with the international characters, accents, punctuation, and currency symbols that are available by holding down the Option or Shift+Option keys.
The Tactile Pro Keyboard has a 2-port USB hub. This can be used for quickly attaching USB peripherals, nothing beats the convenience of an in-keyboard USB hub. No more reaching through the tangle of wires behind your computer to download photos from your digital camera. Just plug it into the keyboard and you're ready to go. Works great with MP3 players, flash hard drives, joysticks, and mice too.
This keyboard also has standard Eject and Volume control keys. I really like the power button to turn my computer on and off "if needed" The Tactile Pro keyboard has the look and features of Apple's Pro Keyboard. It will look as good on your desk as your Mac does.
So... if you are tired of "mushy" keys do not mind a little clicking noise when typing I can recommend this keyboard for all computing/typing needs. The Tactile Pro Keyboard is built to last, and comes with a 5 year warranty.
---
Buy this keyboard!
StephenFleming on SmallDog.com
My father owned a typewriter store. I could type before I could write. In high school, I routinely clocked myself at 110 words per minute on an IBM Selectric. (Remember those?) Given that background, I am very picky about computer keyboards. Almost all of them suck.
This one Doesn't Suck. (With apologies to Bare Bones Software, who has trademarked that phrase.)
I get the audible feedback that 99% of computer keyboards lack. I type faster and more accurately. I can find those fiddling little option characters, since they're printed on the keycaps. Basically, Matias got everything right.
The ONLY drawback is that I can't compose emails while on a boring conference call, since the keys are loud enough that the person on the other end of the speakerphone can hear me type. That's a pretty minor drawback.
Buy this keyboard!
---
This keyboard (and the Kensington Expert Mouse Pro) should come standard with every Mac.
DavidSattler on SmallDog.com
It took two days to get used to this keyboard, which has a much different feel from Apple's mushy standard offering. Now typos are down and speed is up. Best of all, the "didn't hit the shift key at exactly the right time so the letter wasn't capitalized" problem has disappeared. (Other folks I know have complained about that as well.)
Curiously, on OS 9.2.2 the power key works but the volume and eject keys don't. On OS X 10.3.4 the opposite is true. And, yes, it is too loud to type while on the phone. (Bad for boring, long winded clients!)
Nice heavy keyboard, solid feel, the option and shift option characters are printed on the keys, which saves me time every day. This keyboard (and the Kensington Expert Mouse Pro) should come standard with every Mac.
---
Great product!
Art Hendrikson, Warehouse Manager on SmallDog.com
People just rave about the "feedback" from this keyboard as they type. The "click-clacking" of the keys gives an aural confirmation that a key has been typed. You can even begin to sense when a keying error has been made because you can hear it occur. Great product!
---
A great keyboard - a great company - buy one!
25-year+ computer user on Amazon.com
I used an Apple Extended keyboard for years, and never thought I'd see anything like it again - and then I bought this keyboard. It's really wonderful - my typing is more accurate with it, and the inclusion of optional characters on the key caps is so helpful that I'm amazed no one's done it before. The company is also terrific. The first one I bought had two malfunctioning switches (which is rare based on all I've read), and they bent over backwards to make sure my replacement one worked. I'm strongly considering buying a second one so I can have one both at the office and at home - I'm completely sold on this. If you do a great deal of typing, do yourself a favor and get this keyboard!
---
The Nimitz Sails again
RussWhite on SmallDog.com
The Nimitz Sails again I have a question for all of you old-school Tech Tails readers, do you remember the old Apple Nimitz keyboard? The name may not be familiar to you, as it was Apple's code-name for the Apple Extended Keyboard II, but you probably remember the keyboard, a huge slab keyboard with the best-feeling "clicky" keys I ever had the pleasure to type on.
The Apple codename "Nimitz" referred to the aircraft carrier of the same name, probably due to the massive footprint of the "flight deck" of this keyboard, in fact, early Nimitz prototypes were adorned with tiny plastic airplanes ;) gotta love Apple's sense of humor. :)
The thing was built like a tank. I actually spilled one of those 64-oz "Big Gulp" cups of water on it, not just once, but 2 different times, and thanks to a conveniently located wall switch for the power outlet, there was no damage to the 'board, as I was able to cut power to the machine in time. Admittedly, I shouldn't have had any liquids near my machine, but still, all I did was unplug the keyboard, clean up the spill, plug in my "backup" Nimitz (I have 3 of them) and it was good to go. I let the "bathed" keyboard dry for about a week or so and no problems since, works fine.
Unfortunately, such a nice keyboard is ADB only, and will not work directly with the USB based Macs, not without an adapter. When I got my Sawtooth G4, I even bought a USB to ADB adapter so I could use my Nimitz and Kensington Turbo Mouse 5.0 with it, as there was no way I was going to use the little "crampy" keyboard and "Hockey Puck" mouse with it.
The Apple Pro keyboard was a step in the right direction, but the problem with the Pro was that it was too "flat" and the keys had a soft, mushy feel, compared to the crisp action of the Nimitz. One of the problems in adjusting to Apple's USB keyboards was that since the keys had a soft feel and were low profile, it was easy to miss letters and spaces. My spelling error rate went up dramatically with the USB keyboards, but I adjusted to it, it just never felt as "natural" as the Nimitz.
The other thing I missed on the Pro keyboard was the power switch on the keyboard itself. I got so used to it on the Nimitz, and it was hard to let go. Using the Griffin PowerMate was a usable workaround (and it had those cool blue LED's ;) ), but it was nowhere near as elegant as having the power switch incorporated into the keyboard.
Thankfully, someone has heard the Nimitz users cries of "we want a real keyboard with a good typing feel, a power key on the keyboard itself (where it belongs) and a decent typing angle".
The Matais Tactile Pro is basically the same hardware as the Nimitz with a USB hookup. It looks remarkably similar to the white Apple Pro, just a little chunkier. The key caps themselves are taller and have a more positive action and a distinct tactile "click". The typing action is very similar to the Nimitz (I have one here beside the Tactile Pro to compare them side-by-side), the Nimitz still is better. It has the perfect balance between the clicky feel of the Tactile, and the soft feel of the Apple Pro. However since the Nimitz is ADB, the only way to use it on a modern Mac is thru an ADB to USB adapter like the Griffin iMate.
The other drawback to the Nimitz on a USB Mac is that you have no media control keys, no volume up/down/mute, although F12 can be used as the Eject CD key.
The Tactile has all the advantages of the Nimitz, the crisp typing feel, good ergonomics, a power button on the keyboard (where it belongs), as well as the media control keys, all in all, a worthy successor to the Nimitz.
Tactile Pro Advantages:
* crisp typing feel
* power button on the keyboard
* media control keys
* heavy, durable feel
Tactile Pro disadvantages:
* keys may be "too" clicky / loud for some people, it's not a "quiet" keyboard, you'll know when someone is typing from the key clicks
* Power button functionality varies according to what Mac it's used on. On my store Gigabit the power button does not power up the machine, it only pulls up the "do you want to shut down" dialog box. I have yet to try it on an older Sawtooth to see if it works to power up the machine or if it's simply a "shutdown only" power button.
* Matias driver software must be installed to take advantage of the media control keys. It's annoying to have to install a 3rd party driver to take advantage of the media keys, but once installed, the driver is invisible and unobtrusive.
Overall, the advantages of the Tactile Pro outweigh it's disadvantages, at least to me.
Rating; 8.5 (out of 10)
---
An excellent keyboard - for mac users and others.
S. Russell on Amazon.com
As a programmer, I bought this keyboard to use with a debian linux workstation running on an x86 PC. After remapping caps lock to be an additional control and learning that the alt key is slighty shifted, I am as fast and accurate with this keyboard as any other. The satisfying feel and light contact of the keys lets me type longer, and it is almost the perfect size. Having two USB ports on my desk is also a nice addition.
There is at least one "dead key" issue: I use control-alt-right (which works fine) and control-alt-left (which is dead on this keyboard) to switch desktops, so I had to reconfigure, and the "clover" keys are not mappable as modifiers - only as individual keys.
It would get one more star if there were no keypad, or if the keypad were seperate and I could free up the desk space to get my trackball a little closer to the action.
---
The Matias is excellent
Dale on SmallDog.com
Wow. I've finally found a keyboard that can keep up.
Perhaps because I learned on typewriters or because I use a keyboard up to 12-14 hours a day, I've never been happy with newer, "membrane" keyboards. Even on my otherwise gorgeous Powerbooks, I get a lot of "double" letters unless I slow my typing to a crawl. Of perhaps a dozen keyboards around my home office, I can really only use one unknown third-party model that has "heavy" keys but at least the right travel to eliminate this problem.
I bought the Matias Tactile after examining it and another "mechanical" keyboard. I opted for the Matias because the other has a non-standard delete key. I'd be curious how it compares but for about $80 a pop, I'll wait.
Anyway, the Matias is excellent. I can probably clip along at 140 wpm with ease and have very few typos from the keyboard. The "touch" is almost perfect. The only drawback is it is noisy compared to membrane keyboards. On those mornings when I start work at 3 a.m. I may have to use a "newer" keyboard to keep from waking my wife!
Otherwise, this is great.
---
Great keyboard but key lettering wears off too quickly
T. Tom (SF Bay Area, CA United States) on Amazon.com
This is a great keyboard and is actually fun to type on. It's quite clicky, just how I like my keyboards. Be aware that it's a bit noisy to type on so if you are in an office or home situation, you could possibly annoy those around you with the sounds of your typing on this keyboard.
Also, I am dissappointed that the lettering on the keys seems not very sturdy. After just about a year, my Tactile Pro lettering is wearing off a little on certain often used keys. While this is a minor issue, it's an issue nevertheless. I've not had lettering on any other keyboards wear off to this extent.
The Tactile Pro has a great feel and after typing on it, there's no going back to a regular keyboard. But I wish it was a bit sturdier in terms of the lastibility of the lettering on the keys.
---
Good Keyboard, what's with the glitch
NS on Amazon.com
This is a great keyboard, the keys click like the old style computer keyboards. My girlfriend and I made a lot of typos on our standard apple keyboard because it was mushy and you never knew if you hit a key.
However, everytime I log out the keyboard assisstant comes up. I emailed tech support for matias, they responded it will appear once and you'll be done, I emailed back a month ago no, it comes up everytime, they have never responded. I can't find any info to help me on this online. It's annoying, but I'm keeping the keyboard because I can't type on the apple and this thing was expensive. I'm just hoping this problem doesn't last forever.
[Update] OSX update or something took away the keyboard assistant, no thanks to matias who never responded to me. However, I went to take off the top to clean, because underneath the strange clear plastic on top, dirt accumulates. Well, the cheap plastic tabs broke off, and the USB ports won't go back in place. 100 dollar matias now sitting on floor as I type on my apple OEM keyboard. Would change to 2 stars because you can't take care of it.
---
最後の?カチャカチャキーボード
ばんぺい on Amazon.co.jp
ただでさえ、Mac用のサードパーティ製キーボードはありません。しかも英語配列とくればなおさら。(まあ、そういう意味でも外国産になってしまうのですが。)そのうえこれは、キーを打つたびに"カチャカチャ"とかなり大きい音がします。古い時代からコンピュータを使っている人にはこたえられないキーボードです。時代にはマッチしないのかもしれませんが、私には「ヘコヘコ」キーボードよりもこれです!
しかし、一番人に近いインターフェースであるキーボードが、コスト低減でも先頭になっているのは納得いきませんね。アルプス製のメカニカルスイッチとしても最後と思います。
---
Awesome keyboard; just like the good ol' days
A. Drew "adrew" (Fort Worth, TX) on Amazon.com
I've wanted one of these since they were released. I got one for Christmas and have been very pleased with it. The keyboard that came with my 6-year-old G4 was starting to feel mushy and worn out. This one is anything but! It's the best keyboard I've used since the original, upgraded, heavy-duty Apple one from the 80's. I can type much faster than on a standard Apple keyboard, with improved accuracy to boot.
The only drawback is that it IS really noisy when you're typing quickly, so late-night typing is probably out of the question unless you have a dedicated office. Also, it'd probably annoy your co-workers if you brought one into the office.
It has the dedicated volume and media eject keys of all current Apple keyboards. And a power button. On the keyboard! On older Macs the button can be used to start up and shut down the computer, but recent ones lack the circuitry to power up from a keyboard signal. Still, you can summon the sleep/shut down dialog with the power button.
Another bonus is that -- apparently -- it's easy to take apart and clean out random crud that gets in there, unlike the Apple keyboards.
---
Quickest and most comfortable keyboard I've used in many years
Sarvis on forums.macrumors.com
I've been using the Tactile Pro keyboard for the mac. It's quite loud, but otherwise it's the quickest and most comfortable keyboard I've used in many years.
---
great keyboard, but it is LOUD
Ivan Cat (Redondo Beach, Ca USA) on Amazon.com
High quality. Nice feel to the keys. I like the feel alot. It's like an old school keyboard.
On the downside, this keyboard is loud, loud, loud. The keys aren't really the bad part. What is annoying is that there is a 'ringing echo' after each key is hit, and I personally find that really annoying.
Also on the downside, the plastic elevator feet at the back of the board feel cheap. The keyboard is rock solid laying flat, but feels plasticy when the feet are used to raise the angle.
6 MONTH UPDATE:
I have grown to LOVE this keyboard. I don't notice the noise anymore. The only competitive keyboard that comes close in feel is the Das Keyboard, and while i like its Darth Vader look, the keys are blank, no lettering or numbers and I can't get over that. Occasionally, I am forced to use another keyboard and I find myself longing for my beloved Tactile Pro. I would buy a second for backup, but there are none available at the time I'm writing this.
I still think the angled feet are bit cheap feeling, but honestly, I don't notice that when using the keyboard. My biggest complaint at this moment is that there is no 'Print Screen' button (I use the Tactile Pro with my PC) and that is annoying. And, no, just pressing the F14 button does NOT do the same thing, for some reason.
---
Great keyboard, but lettering wears out too quickly!!!
D. Fleming "ozyr" on Amazon.com
The Tactile Pro keyboard is a great keyboard. I just love the feel of it and it's durability. I also like the simple fact that it has all the mac special keys, such as the volume controls keys and the CD eject.
On the minus side, which I noticed in another review, there is one big downside to this keyboard. I've had mine two years now, and just realized that the letters and symbols are wearing off on the left side of my keyboard. I have about 12 keys now that have partial or no symbols on them anymore, and a few were the letters are starting to come off too.
The symbols on the keyboard is one of the main reasons I bought this thing. I was going to replace this keyboard (I lost my receipt, thus no warranty), but am steering away from this, as I don't want another keyboard that the lettering comes off after time. I have 'never' seen a keyboard that has done this in over 20+ years!!! :(
05/05/06 update: Matias replaced my keyboard with a brand new one - no questions asked (besides proof of purchase). I would rate this a 'four' now because of the great online support, but still will not give this thing a '5' due to the 'rubbing off' issue.
---
Pricey, but a Great Keyboard
Mac guy "EMACS junkie" (Earth) on Amazon.com
After 1 second of use this became my favorite keyboard of all time. The keys have just the right amount of travel and tension. If you do a lot of text processing (e.g. programming) it is perfect. The CONTROL, and OPTION keys are IMO perfectly placed for use with such as EMACS.
It did arrive with 2 stuck keys but I was able to fix them. If this happens to you, go to the Matias website, there is a procedure there to fix it.
Only 1 warning: you better believe everybody who tells you this keyboard is loud. It is L-O-U-D. It is hilariously loud. You will not be able to use it in the same room with other entertainment devices such as televisions or CD players. Well, you can, obviously, but you will not be the most popular person in the room if you do.
---
The best keyboard I've ever used
Chad W. Armstrong on Amazon.com
In the July of 2006, my Apple Pro keyboard finally gave up the ghost after 5 years of faithful service. I needed a new keyboard. The current-line of Apple keyboards are decent, but I'm not a big fan of the little "trays" on the keyboard on either side of the arrow keys which seem to just collect dirt and junk.
Remembering my fond memories of pounding on those high-key keyboards that the Macs had during my high school days, I began my search for a new keyboard. I ended up getting a Macally iKeySlim keyboard. The description and price looked good, but the feel of this keyboard was HORRIBLE. I was often missing letters while typing, which caused many typos and forced me to type even harder, even though the key action was relatively low. This was intolerable. And to top it all off, even though the iKeySlim has a power key on it, it couldn't start up older Macs. But the typing quality and feel of this keyboard just was not up to snuff, so I was off to find another keyboard.
After reading about the Matias Tactile Pro, it appeared to have everything I was looking for. It had two USB ports. It had a power button (which does start up older Macs). It has the volume and eject keys, in the same place as the Apple Pro keyboards. It looks great. And even by just looking at screen shots, the quality of the keyboard looked wonderful and solid. I didn't just want one. I NEEDED one.
After much searching for several months, I was finally able to secure a refurbished Tactile Pro keyboard.
I've had the Tactile Pro keyboard for several months, and I am immensely pleased with this keyboard. Everything I hoped for is there. The quality and feel are excellent. I have not experienced any technical glitches with this keyboard at all. This is very likely the best keyboard I've ever used. The power button even starts up my old PowerMac G4.
As other people have mentioned, this keyboard is pretty noisy in comparison to most other keyboards. It's not real loud, but it's loud enough to be annoying to people nearby. When I tried it out at work one day, someone asked if I had a speaker on my keyboard. No, the keys just click and echo fairly loudly. But that is likely the price to pay for such a wonderful feel.
As long as the Tactile 2 has the same quality as my keyboard, I would highly recommend getting one. Yes, it is pricey to pay $150 USD, but I would say it is entirely worth it, especially if you do a lot of typing. I would just recommend having your own office if you have one at work.
---
Not what I expected
Christopher Hendrick "slackpacker" (Greenlawn, NY United States) on Amazon.com
I purchased the MTP Keyboard recently on the impression that I would be getting a Quality Keyboard worth $149. My purchase was based on that it was going to have a "New" Optimize Key on the keyboard that would allow you to assign certain functions to the keyboard like cut and paste to half the keyboard... it was a cool option. But after my order without emailing or telling its pre-orders Matias decided to scrap this option. It was still being advertised on its website... plus the keys were a new design and not the Alps Keys. To Top this off the Website also pictured the F13,F14,F15 Keys as having Lights on them.... they were mysteriously missing from the keyboard I had received.
Also The MTP HAS 2 (Two) USB CABLES hardwired to the left side of keyboard?! One of the reasons I Purchased it was I thought it was a USB 2 Hub.... (Matias still advertises this as a 2 port hub I only saw one port. Matias should change its description to it proper function - USB 2 Extender)... its 1 (ONE) usb 2 port has to be plugged into a second USB port... on a powerbook or MacBook pro this takes up every port and being a mobile user I cant see myself plugging in both every time... so a hub is still a must for the laptop user.
My Review before returning it.
The overall feel of the keyboard is cheap (the plastic just not quality I would expect) and the keyboard risers would probably break if any weight was put on the keyboard. Each Key wiggles slightly before you depress it. It does not have the tight feel of a quality keyboard. The angle of the Keyboard is also weird as well... it sits too high and you can't rest your wrists on your work surface and type without bending your hands up until its very uncomfortable.
I was hoping for more and at $149 you should expect it. The misrepresentations of the MTP on Matias's website were unforgivable. (Note as of this writing it looks as if Matias has updated the website to show the current model's picture)
---
It looks like the old Apple keyboard. It definitely doesn't sound like it.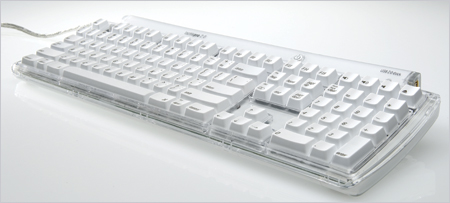 Some old-school geeks love the clattering chaos of mechanical-switch keyboards, and the Tactile Pro 2.0 gives us those good vibrations. Each press of the Tactile Pro 2.0's keys takes us back to a time before squishy rubber membrane keyboards. Unlike the vast majority of other keyboards — nearly all keyboards, aside from those on laptops, use that rubber membrane style — the Tactile Pro 2.0 has a spring inside each key and physical feedback for each press. You can distinctly feel each click and release. Granted, you might find the keyboard too noisy with its clickity-clack action, but it's music to many a longtime computer user's ears.
While the Tactile Pro 2.0 is worth considering for its great feel alone, its other features are a mixed bag. Best are the symbols printed on each key — a boon for finding ¥, ©, or other characters. On the other hand, the keyboard hogs up two USB ports on your Mac. One USB connection is for the keyboard itself, while the other acts as an extension for the single USB 2.0 port on the keyboard, to which you can connect a mouse, flash drive, or other peripheral. At this price, we'd expect two or three USB ports.
THE BOTTOM LINE
USB 2.0 design flaw aside, old-school typists won't go back to cheap rubber membrane keyboards.
+ Feels great. Audible, physical feedback that a key has been pressed. Includes volume, Eject, and Power keys. Special characters printed on keys.
– Nearly useless USB 2.0 design takes two ports and gives back only one. Makes a racket.

---
Caps Lock on - or not?
Rik in Mac|Life comments
I love my Tactile Pro 2.0 (and its easily accessible USB 2.0 port), except for one pain in the proverbial glutes that you didn't mention: Its lack of any indication - light or otherwise - that the Caps Lock key is engaged or not.
---
Not so good
Anonymous in Mac|Life comments
I anxiously waited for this keyboard to arrive, after having pre-ordered it. I had borrowed a friend's Tactile Pro (first version) and loved the mechanical keys. Unfortunately, this keyboard has way too many "ghost" or "shadow" letters when I type. What happens is that you get an extra letter in your word if you type to fast.
It's too bad b/c this is one of the better feeling keyboards out there.
Hopefully version 3.0 will solve this.
---
My review --
Anonymous in Mac|Life comments
Contrary to this reviewer, I didn't like the TTP 2, particularly compared to the TTP 1.
Was the review unit provided by Matias? I ask because many of the keyboards described in the wild seem to have problems like the ones I describe.
---
Fatal flaw
Michael Kosarin (New York, NY USA) on Amazon.com
Well, I don't look down a lot while I'm typing, but, my, is that an ugly keyboard with all those characters all over the place. Other than that -- feels quite sturdy, but definitely much louder clicking than other recent keyboards. One fatal flaw, and the reason it's going back -- no equals sign on the numpad! Not sure how they can call it a Mac keyboard and leave that out. The reason it's so important to me is that I use Finale for music notation, and it requires easy access to the equals sign. Back it goes.
---
Great keyboard
Kardnal (Toronto) on Amazon.com
I've had mine for over 4 years now, and its been fantastic keyboard. My only complaint is that it's not the easiest to clean, and that debris gets under the clear case.
Otherwise, I wish every keyboard I typed on was one of these.
---
Matias Tactile Pro USB Review
cmcken1 (Los Angeles) on Amazon.com
I have all but worn out the letters on this board and it still works flawless. I recently upgraded to the later, version II. THe latter one has improved keyswitches over the first rev. The first rev required just a tad more force to down the key.
The key feel is very smooth on mine and sometimes, I can't feel home position. Other than these minor issues, this is the best keyboard for accuracy and speed that I have used. Both versions are very good although, I do like the USB II as the keys do not have as much side to side play and are a tad less springy feeling.
---
Extremely pleased with your service and of course the wonderful keyboards
Don Brenneman by email
I just wanted to drop you a note to say how extremely pleased we are with your service and of course the wonderful keyboards.
I think my wife mentioned to you that we actually have purchased three Tactile Pro keyboard's for our two iMacs and one for my son's Mac Book Pro (this is an irony by the way since he works for Microsoft ). Also, sometime in the middle of last year, I purchased the black tactile pro keyboard for a Windows-based Dell at my work place which is operating just fine.

I just love the Tactile Pro 2.0 and will surely buy another one in the future just for another spare.

I would highly recommend the purchase of the Matias Tactile Pro 2.0 keyboard to anyone who owns an iMac if they long to the look and feel of the good old days and want a superior product---it is well worth the purchase price.

And to make things even better, Matias service is extraordinary. I will look for opportunities to purchase additional products from Matias in the future.

Many, many thanks,

Don Brenneman
---
Good feel, but several annoyances

Paul Burney "Dad of two" (Athol, MA United States) on Amazon.com

I've always been a big fan of the old Apple Extended II Keyboard and I've been using an Kensington Studioboard at home for several years. I decided to try this keyboard for work and I've been disappointed.

If you like the old-school, noisy keyboards, this one won't disappoint you in that regard. The keys feel nice, have a great tactile response, good travel, etc. It's really a pleasure to type on. The white Mac version has the alternate characters printed on the keycaps which is helpful.

Here are the problems I've found:

1) There are "ghosting" issues when you type too quickly. For example, if I type "ice" too quickly, it adds an extra , onto the end. Typing slowly, this isn't a problem, but it affects me all the time.

(I also verified something I read elsewhere: if you hold the right shift key and type "OP", instead of the P you get odd control characters)

Evidently this is because some keys share the same electrical paths and you only notice it when you type too quickly. People on the net say it was worse on the previous version of this keyboard.

2) The USB connection takes two cables and seems to be "stuffed into" the back. Basically, it seems too large to fit where it is placed. Also, there is only one available USB port on the keyboard so you lose ports rather than gain them.

3) There isn't a Caps Lock light so it's hard to tell if you are TYPING or just typing.

If I had purchased this keyboard on my own dime, I would have returned it. It's really too overpriced for all the flaws it has.
---
I didn't care much for the MTP 2.0

Jake in Mac|Life comments

I wrote an unfavorable review of the MTP 2.0, saying it "combined a fat price ($150) with poor build quality (loose keys, a malformed edge, and a continuing shadow key problem)."

I consider the clicky sound a benefit; it's the rest of the package that is bothersome.
---
Built like a tank, noisy like a tank

A. Shiekh (Tsaile, AZ United States) on Amazon.com

Would give it 5 stars if it didn't disconnect spontaneously now and again on a Mac; built like a keyboard should be, but not good if the noise is going to disturb someone.
---
The perfect keyboard for mac old ADB keyboard users

R. E. Britell "jazz fan" (Upstate NY) on Amazon.com

Having cut my typing teeth on a selectric typewriter, this keyboard felt like "coming home."

I pondered a great deal about buying a keyboard and not being able to try it out first. Since I make my living doing medical transcription, I need speed, accuracy, and I depend on the keyboard being able to keep up with my fingers (roughly 120 WPM).

I checked out every review I could find on the web, even one that gave a sound bite of how loud it would be. I needed to be able to type over the sound. I already knew about the double USB 2.0 connection on the keyboard, but what a plus that is when you need to insert a quick data stick or an iPod charge, the connection is right there at your fingertips. So you lose one connection out of the back of your computer, but Matias brings it right out front, where it is far more useful.

If you are a macintosh person, do not hesitate for one second. You can choose the optimizer function or turn it off if you want, so that it works just like the old ADB's. Your F keys will work with your QuickKey assignments, or you can use the ones that mac gives you, take your choice. One great bonus was that it has a little light on the F13 key that tells you if the caps lock is on or off. I can do a quick glance to know that. If the caps lock is on, the light will be on. What a bonus.

I've been so happy with my keyboard, and it is in use all day every day.

One sad thing was that my husband also uses this keyboard but does not touch type. He pounds the keys kind of, in a two finger manner. As a result, one of our keys happened to break a spring (It's the old IBM bent-spring technology that is why it's loud). I called the company and to my delight it was the best customer service ever. And they're out of Toronto also. I gave my husband a stern warning about not pounding on it, because the keyboard is so responsive it's not necessary.

Overall, if you are a mac person, this is the keyboard for you. For you PC users, if you like the touch of the old selectrics go for it. Otherwise you have many other options available.
---
Probably the best keyboard your money can buy

Jaewoo Kim (Santa Monica, CA) on Amazon.com

I have bought 3 keyboards recently to match the premium IBM PS\2 keyboards of 20 years ago and only this keyboard met my expectations.

If you want the best tactile feeling keyboard with spring coils (not rubber dampers) in each keys, then look no further. This keyboard is a gem.

The OEM manufacturers,IBM and Apple in particular, have stopped producing premium keyboards during the 1990s when the PC prices fell below $1000. Those who have used Mac and IBM PS\2 keyboards in the late 80s and early 90s know what a premium keyboard with high quality components feels like.

This keyboard feels and looks very similar to Mac keyboards in the late 80s, which was very similar in quality, but slightly lighter in feel, to the IBM PS\2 keyboards. You will definitely hear the "click" sound, which is louder than the inferior quality keyboards, similar to the old Mac keyboards.

I can't say these keyboards are good value for the money since you can easily purchase a usable keyboard for $20. These cost more than 6 times as much. Certainly, these keyboards are not 6 times as good, but they are certainly better in tactile feel and component quality.

The USB cable is a generous 5 feet long. There is only a single USB input port, which I use for a mouse. Strangely, the USB output requires two USB connections to the computer (one for keyboard and the other for USB 2.0). So if your PC or laptop has only one free USB port, you may need to get a USB hub and an extra cable.
---
Compared to the TactilePro, all other keyboards feel like they're made of blancmange

Peter Ceresole (UK) in mackb.com forums
My Tactile Pro 2 is still my favourite keyboard.
Damn right. Mine too- and I have a Nimitz that I tried recently on the same iG5. The Matias was crisper, more definite, generally superior all round. Compared to the TactilePro, all other keyboards feel like they're made of blancmange.
---
My Tactile Pro 2 is still my favourite keyboard

Ian Piper (UK) in mackb.com forums
I noticed today that the Matias Tactile Pro 2.0 (much loved by some here) has been discontinued with a new model promised this Autumn.

I'll stick to this Extended II for now but it's nice to know there may be an alternative.
My Tactile Pro 2 is still my favourite keyboard. For writing work [1] when I may be pounding the keyboard for 12 hours a day or more it's perfect. If Matias do make another model I really hope they make it easier to buy them in the UK - I eventually bought mine direct from Matias in Canada and had to pay for shipping.

Ian.
---
Matias Tactile Pro 3.0
Coming in 2010 !

Michael Shaw (Oshawa, Ontario, Canada) in MaUsE DoubleClick

There have been few emails I have ever received that were more welcome than the recent press release from Matias Corporation indicating that their new Tactile Pro 3.0 keyboard was almost ready to release. Almost....

The story of Matias tactile keyboards is based on their successful attempts to re-create a keyboard with the same feel as the legendary 1987 ADB Apple Extended Keyboard (M0115). This keyboard is a favorite with vintage Mac users due to the "tactile" feel and the unmistakable clackety-clack sound which comes from the mechanically driven Alps key switches it uses. I still have an Apple Extended Keyboard and I think I gave one to Aaron a few years ago. I read somewhere that the Alps key switches in the Apple Extended Keyboard are rated to last 10 to 15 million keystrokes. If you are a moderate typist, it should easily last anywhere 15 to 25 years, perhaps more. Even in this time of Intel-powered Macs and Mac OS X sometimes you will still see an Apple Extended Keyboard being used with a thoroughly modern Mac through the use of an iMate ADB to USB adapter (costing about $40.00).

But to get back to the real story here; Matias Corporation makes, and is known for making, really great keyboards. I wrote about the Matias tactilepro 2.0 last summer and I have been using one to exclusion on my new Intel iMac. For me, this was an absolute no brainer: the Model 1243 keyboard that came with the mid 2007 24-inch Intel iMacs is a patheticly soulless flat aluminum pad that lacks all personality and charm. The day the Matias tactilepro 2.0 came out of the box and the Apple Model 1243 keyboard went into the drawer was the last time I set eyes on it. And it's also the last time that I had to systematically go over everything I wrote looking for the inevitable missing letters.

Since last summer there have been no Tactile Pro 2.0 keyboards available anywhere. The first run of them, in white for Macs and black for PCs, sold out. I wanted one of the gorgeous white Mac ones in the worst way and was fortunate enough to get one of the black PC ones. But that is the past. Now for the future. The first stock of Tactile Pro 3.0 keyboards is slated to arrive early in January of 2010 and Matias are now accepting pre-orders for North American clients via their Head Office in Newmarket, Ontario.

The Matias Tactile Pro 3.0 keyboard features include:
Option key characters laser-etched on each key, for easy reference when typing special symbols and to prevent fading
Caps Lock Key in the traditional location, with Caps Lock Light
Volume Control Keys & CD Eject Key
One cable to connect the keyboard to the computer
3 USB 2.0 ports: one located at the extreme left and right of the keyboard, plus a third one at the back in the middle of the keyboard
Premium quality Alps mechanical key switches, for maximum comfort & speed
If my new Matias Tactile Pro 3.0 arrives in time there will be a full review of it in the January 2010 issue of the DoubleClick. If it isn't there in January it will certainly appear in February. Look for it.