Protect the one you love.
Stylish, lightweight and rugged, Matias Armor™ keeps your iPod® looking as new as the day you bought it.
Matias Armor fits all full-size Apple iPod models, including the new 5th-generation Video model. Looking for a case for your iPod mini? We've got those, too.
Total access to all iPod controls when open.
Unique friction foam interior holds your iPod securely in place, while giving you unobstructed access to the entire front face of your iPod.

Total protection when closed.
Matias Armor completely encases your iPod, leaving only the top ports accessible, and the docking connector on newer iPods protected behind a removable rubber panel.

Matias Armor takes the abuse,
so your iPod doesn't have to.
Rugged aluminum construction keeps your iPod safe from scratches and other random daily hazards. Toss it in your bag. Throw it in your purse. No need to worry anymore. Your iPod is safe in its shell.
"...it provides better protection than anything else I've seen."

BOB "DR. MAC" LEVITUS, HoustonChronicle.com
Protective foam interior.
The open-cell EVA foam interior also acts as a cushion, offering extra protection against the accidental (and highly discouraged!) dropping of your iPod.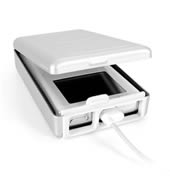 Takes the hit.
Matias Armor is ideal for skiers, snowboarders, or anyone worried about falling on their iPod during sports. Unlike other cases, Matias Armor's hard outer shell does not actually touch your iPod (it is held suspended, floating between layers of foam) so the force of a fall goes into the outer shell of the case, rather than into your iPod.
Takes the heat.
Aluminum is a great conductor. Your iPod actually runs cooler in the Armor than it would lying flat on a table. The case is designed to lift the iPod off the table slightly, allowing air to pass under it.
Built like a tank.
Matias Armor is built to last, and comes with a 5 year warranty.

Specs.
111 x 67 x 27 mm (4.37" x 2.64" x 1.06")
64 g (2.26 oz)

Optional belt clip.
Made from the highest quality materials, our Armor Clip (included) is rated for weights of over 100 times the weight of your iPod and case. Its patented release mechanism is designed to eliminate false releases, while still allowing fast and easy removal using just one hand.