Find that €£©™ symbol!
No need to launch another application to find the ™ € £ © and other symbols. Each key is clearly labeled. Simply hold down the Option or Shift-Option keys.

Menu symbols too.
The special symbols used for menu shortcuts aren't always clear either. We all know

, but the OS X Keyboard also has

and more.
Work faster with an extra Control key.
An extra Control key is positioned to let you Control-Click contextual menus faster (just like the 2nd button on a 2-button mouse).
Work smarter with an extra Tab key.
A Tab key on the number pad allows one-handed number entry into forms and spreadsheets, leaving your other hand free to flip through information being entered.
Eject and Volume controls.
The OS X Keyboard also has the standard Eject (F12) and Volume control keys.
2-port USB hub on the back.
For quickly attaching USB peripherals, nothing beats the convenience of an in-keyboard USB hub. No need to reach through the tangle of wires behind your computer to plug in your digital camera, keyring hard drive, joystick, or mouse.
Quiet Dome Switches.
The OS X Keyboard uses high-quality rubber dome keyswitches. They provide a quiet tactile feel, yet offer enough resistance to hold the weight of your hands, which reduces long-term fatigue.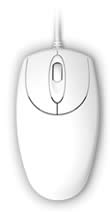 Specifications.
47.5 x 17.3 x 3.5 cm (18.7" x 6.8" x 1.4")
727 g (1.6 lbs)
Cable Length: 139 cm (54.7")
Everything you need in a mouse, too.
The OS X Keyboard is also available as a Combo Pack that includes a mouse! The OS X Mouse has a scroll wheel for quick, smooth scrolling through documents and web pages, a 2nd mouse button for contextual menus, and a precision optical sensor for accurate tracking.
Even better with Key Maestro.
The OS X Keyboard works even better with Key Maestro automation software. Key Maestro lets you set up your own custom keyboard commands that can be triggered much faster using the OS X Keyboard's extra Control key. You can create new menu shortcuts, automate frequently-used commands, control iTunes or other applications running in the background, and much much more.