Sync and charge your iPod, transfer files at lightning speeds, download your digital photos... The USB 2.0 dock does it all.
The USB 2.0 Keyboard's Hi-Speed dock is up to 40 times faster than the low-speed USB 1.1 hubs found in other keyboards. It also saves you the clutter of adding a standalone dock or cable.
Ideal for use with MP3 players, USB flash drives, digital cameras, and other USB or USB 2.0 devices.

Ready for ReadyBoost!
Simply plug a compatible USB 2.0 flash drive into the dock to increase your computer's memory and improve system performance, using Windows Vista's ReadyBoost technology.
2-port USB hub.
In addition to the dock, the keyboard also has a conventional 2-port USB hub located on the back, for plugging in your mouse, joystick, and other USB devices.
Quiet Dome Switches.
High-quality rubber dome keyswitches provide a quiet tactile feel, yet offer enough resistance to hold the weight of your hands and reduce long-term fatigue.



Work smarter with an extra Tab key.
A Tab key on the number pad allows one-handed number entry into forms and spreadsheets, leaving your other hand free to hold or flip through information being entered.
Pump up (or down) the volume.
The USB 2.0 Keyboard also has the standard volume controls: Volume Up, Volume Down, and Mute.
For Mac users...


The white USB 2.0 Keyboard for Mac lets you easily find ™ € £ © and other symbols – they're all printed right on the keys. Simply hold down the Option key for the bottom-right characters, or Shift and Option for the top-right characters. The menu shortcut symbols are there too! We all know

, but the white USB 2.0 Keyboard also has

and more.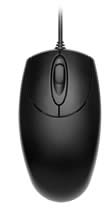 Available with (or without) a mouse.
The USB 2.0 Keyboard & Mouse bundle includes a 2-button mouse with a scroll wheel for quick, smooth scrolling through documents and web pages, and a precision optical sensor for accurate tracking. Conveniently designed to plug directly into the keyboard's USB hub.
Specifications.
Keyboard
47.5 x 17.3 x 3.5 cm (18.7" x 6.8" x 1.4")
750 g (1.65 lbs)
Cable: 152 cm (5')
Mouse
11.7 x 6.2 x 3.8 cm (4.6" x 2.4" x 1.5")
88 g (0.19 lbs)
Cable: 76 cm (30")
System Requirements.
Two USB ports required.


The USB 2.0 Keyboard has two USB plugs - One connects the Keyboard and USB 1.1 hub to your computer, and the second connects the USB 2.0 Dock directly to a USB 2.0 port on your computer, providing full power and speed to the Dock.